ST. LOUIS (KTVI) – Now that it's fall there are some outstanding new skin and hair care products coming to the market. Our beauty expert Sonja Shin from Hello Beauty Blog is in studio to show them to us.
Happy Holidays! Now is a great time to amp up your look for the holidays. A simple swipe of red lipstick is classically beautiful; and yet there's so much more fun you can have. Here are tips I shared this morning on Fox 2 News in St. Louis.
Colorful, Fun Eye Makeup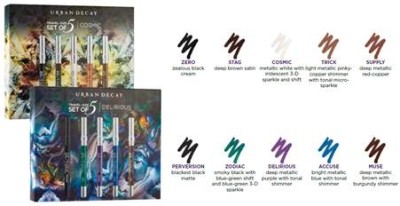 This is a great time to play with color. To avoid looking like you're competing in an ugly sweater contest without the sweater, choose one or two bold colors on the eyes. Apply just along the eyeline or on the eyelid. Urban Decay is my favorite for getting bold with color. They have wonderfully pigmented shadows in bold colors. To turn it up a notch and really turn heads, add a layer of glitter on top of your shadow or liner. Hello Beauty recommends:
Urban Decay Travel-Size 24/7 Liner Sets – Get five fun eye liner colors to play with in these two limited edition holiday sets ($29 each atSephora and Ulta).

Urban Decay Limited Edition Gwen Stefani Set – I adore this palette created in conjunction with Gwen Stefani. It  has a beautiful mix of shimmer, neutrals and a couple bold pops of color and gold ($58,sephora.com).

Urban Decay Limited Edition Vice 4 – This set has 20 never-before-seen shadows with lots of bright jewel tones ($60, sephora.com).

Urban Decay  Heavy Metal Loose Glitter($12), Bondage Weightless Makeup Adhesive($14) and Glitter Liners ($12)

Easy Bold Liner
Whether you go colorful or not, bold liner is usually a go-to for the holidays. Keep it easy with a pen-style liquid liner, which is easy to apply and stays on well through the hours. Hello Beauty recommends the wonderful new Elizabeth Arden High Intensity Liquid Eyeliner ($23, Nordstrom) and LORAC Front of the Line PRO, which is one of the few liquid liners that comes in multiple colors like charcoal and navy ($23,Nordstrom).


Bold Lashes
With bold eye makeup, you have to have bold lashes. If you want to stick with mascara only, Hello Beauty recommends the fabulous new Bobbi Brown Eye Opening Mascara ($30, Sephora), which lives up to its name in spades – just a few swipes with the fabulous, fat brush will really bring out your eyes.
And to get really bold, wear false lashes. Urban Decay Perversion False Lashes are very high quality, make a statement and yet are still lightweight ($15, urbandecay.com). They even have a Glitter Dip style with glitter on the lashes. Love!